As the holidays get near and dates begin to appear in the produce aisle our thoughts turn to gooey cakes that involve dates. This recipe is one of our favorites. Pair it with our Sticky Toffee Sauce for a surprisingly-not-too-sweet dessert.
I think this is a delicious and flavorful cake just as it comes out of the oven. But, I eat pancakes without syrup so I'm somewhat of an aberration. Pull a small piece out of the middle (it gets flipped over for serving) when it comes out of the oven and see for yourself.
If you agree with me, skip the Sticky Toffee Sauce and (if you really MUST have something on cake) try our Mascarpone Whipped Cream. Sublime.
Ingredients
1 pound pitted dates
3 1/2 cups cold water
12 grams (2 teaspoons) baking soda
2 sticks butter at room temperature
150 grams (¾ cup) granulated sugar
4 large eggs
1 teaspoon vanilla extract
300 grams (2½ cups) all purpose flour
1 teaspoon kosher salt
39 grams (3¼ Tablespoons) baking powder
Directions
Preheat oven to 350º F. Position rack in middle of oven.
Butter bottoms of 9″ cake pans, line with parchment, lightly butter and flour pans. Set aside in a cool place.
Place the dates and water in a large saucepan (3 quart is good). Bring to a boil and stir.
Simmer for 1 minute, remove from heat and stir in baking soda.
It's a good idea to stir in the baking soda away from your stovetop since the date mixture bubbles up quite a bit. It's easier to clean sticky date goo off the counter than the cooktop (at least at our house).
With paddle attachment, beat butter on medium speed for about 30 seconds.
Turn mixer off, add the sugar and mix on medium speed for 2-3 minutes until light and fluffy.
Add eggs one at a time, reducing speed to low for each addition then returning to medium for a few seconds to ensure even mixing. I usually have to scrape the bowl down to get the butter/sugar off the high sides of the bowl
Add vanilla extract.
Set mixer to low speed and add flour and salt. Stir just until combined.
The batter at this point will be VERY thick. Almost like a cookie dough. You're about to fix that.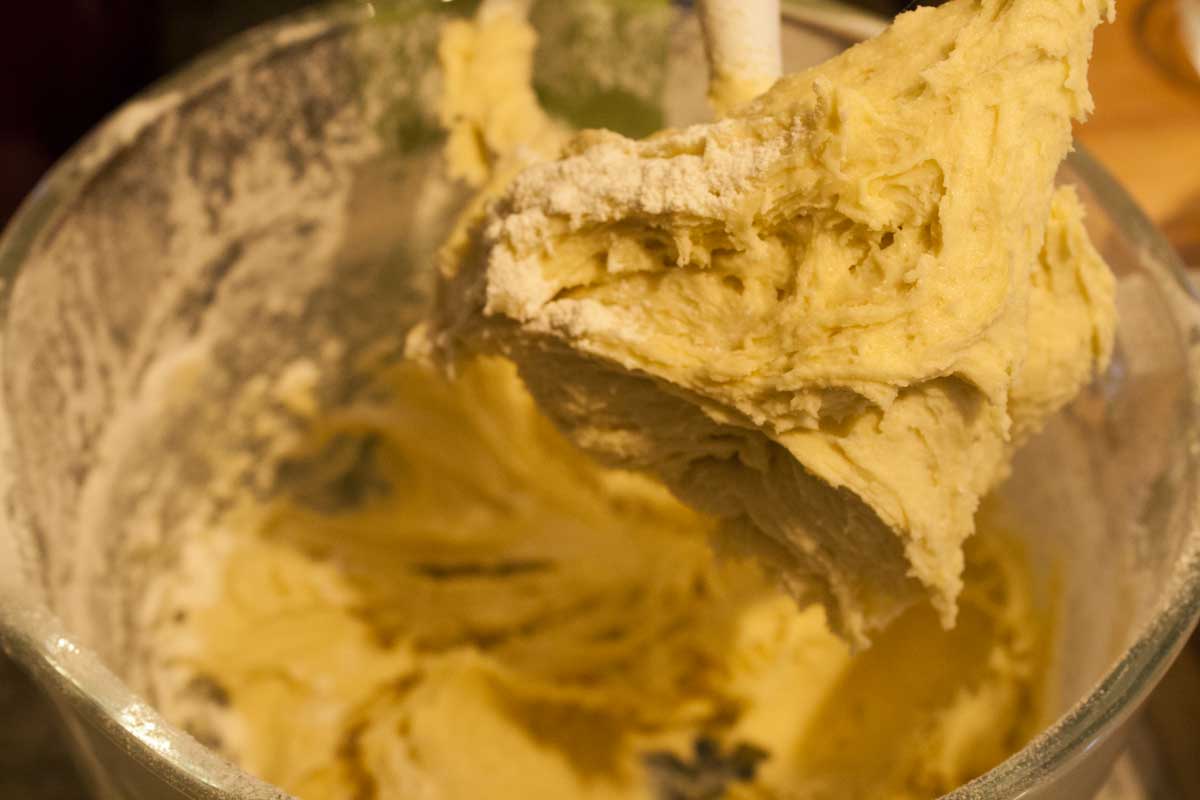 Second tip: we use the pour spout that came with the KitchenAid for this next bit because things can get a little messy.
With mixer at medium-low slowly pour half the hot date mixture into the batter. Stop the mixer and scrape the bowl (or use the fancy paddle-scraper attachment). Mix the rest of the date mixture into the batter and mix on low to combine your soupy batter.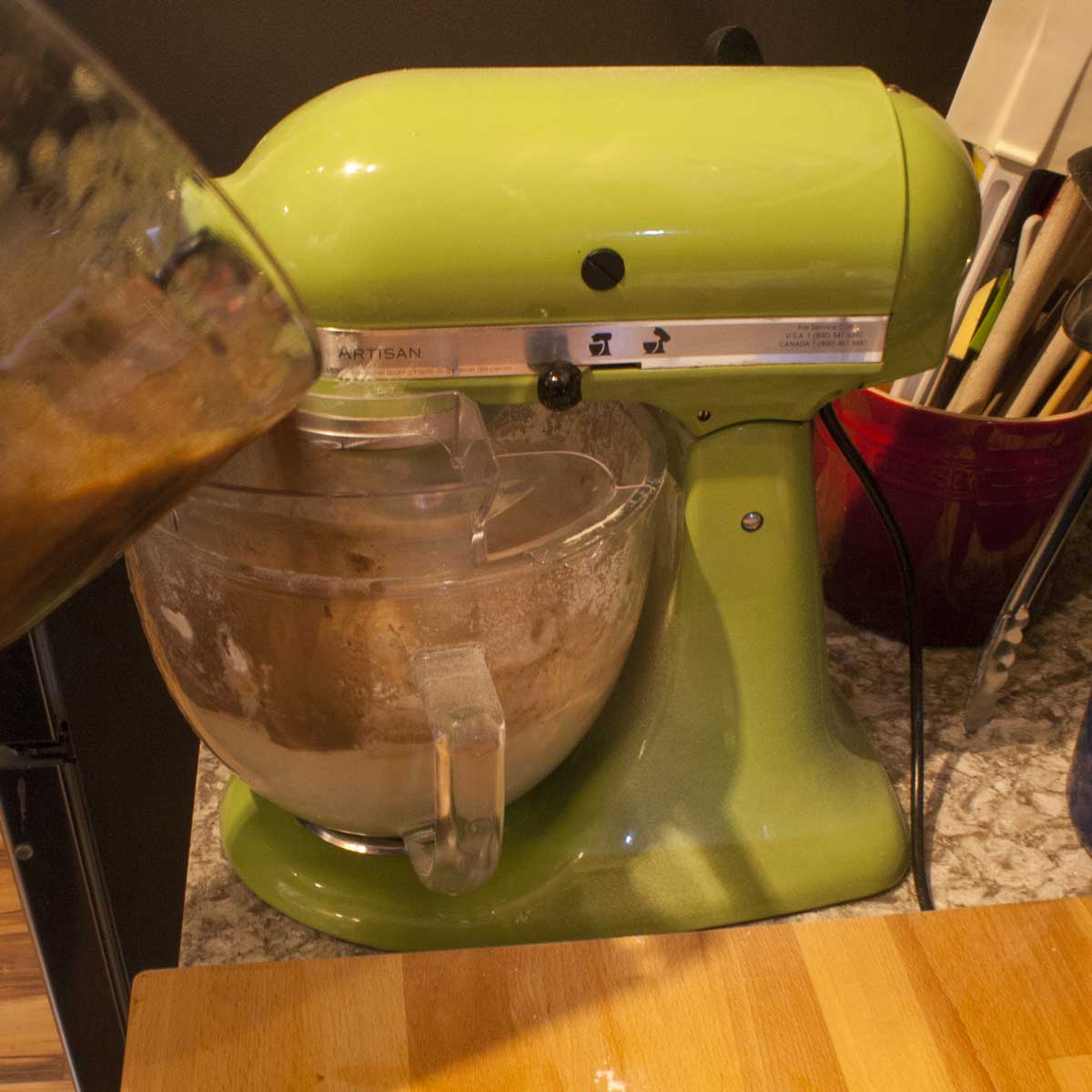 Third tip. What you're about to do will likely surprise you the first (and probably second) time you do it. The batter is going to react violently and has, on occasion, escaped the bounds of the mixing bowl.

IF you used the pour spout earlier you probably want to remove it before proceeding.

Also, if you have small children in the house (or can borrow some for a minute) they think this is pretty cool.
With the mixer on low speed add the baking powder. The dough will rise quite quickly and be VERY bubbly.
Once you stop gawking at the batter, divide equally between your prepared baking pans and pop into the oven.
You can safely fill your baking pans to the very top. This dough won't rise any further.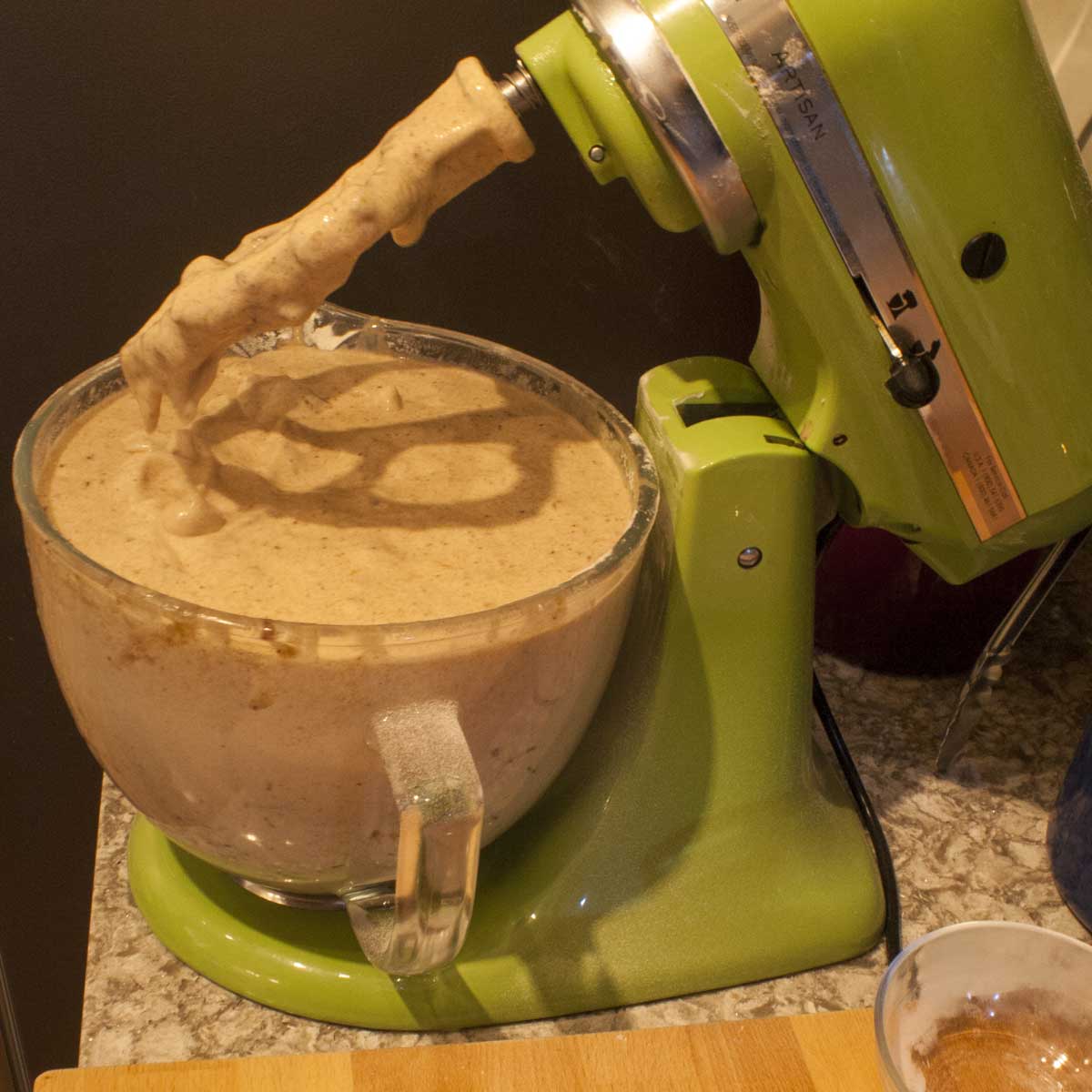 Bake about 35 minutes. A cake tester will come out clean when done.
Remove to a cooling rack but don't remove from the pan. Using a toothpick, chopstick, or other implement of destruction, poke the top full of holes.
Divide your Sticky Toffee Sauce over the two cakes. You may have to pour the sauce in more than one step if the pans threaten to run over.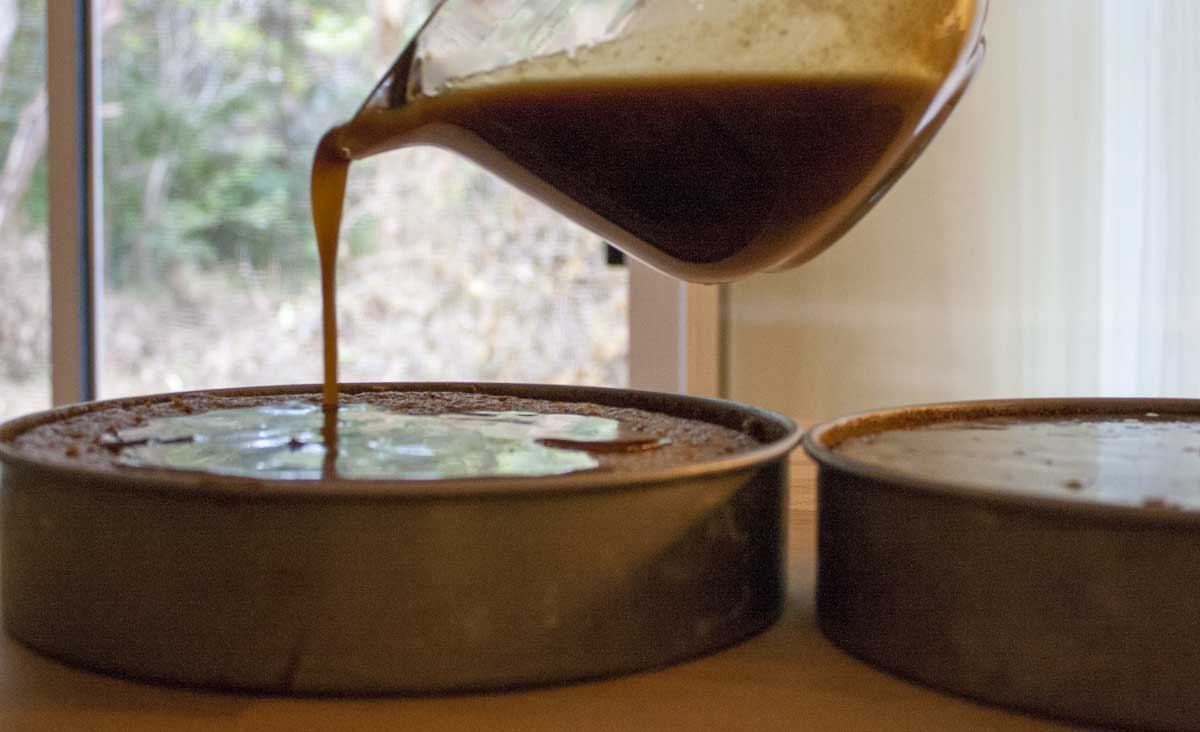 Once you have all the sticky sweetness poured on/in, let them sit for ~10 minutes.
Invert each onto a serving platter.
Serve with unsweetened whipped cream or (our favorite with or without the Sticky Toffee Sauce) Mascarpone Whipped Cream.