Vegetarian Lasagna Recipe
Ok, so lasagna is our once-a-year splurge. It's delicious but not necessarily the healthiest choice. Our favorite lasagna involved a long-cooking Bolognese sauce. And it is delicious.
But for this past New Year's we decided to give up eating critters. This wasn't necessarily a health choice and certainly not a moral choice. Maybe a little bit of a social choice (the environmental cost of meat production is catastrophic). But mostly it was a champagne-fueled New Year's Eve conversation with our friend Cara in her gorgeous apartment overlooking the Hudson River.
Cara was vegan for several years and had slowly moved back through vegetarian to omnivore. She chatted about how much better she felt as a vegetarian (while we were enjoying that long-cooking bolognese-based lasagna). So the small group of us decided to try vegetarian for 90 days. We toyed with vegan but seriously cheese is just too damn delicious. And including cheese and eggs make it easier to give up lamb chops and rib eyes. Life is a compromise.
So early on January 2nd we ventured out to the wonderful new grocery store in our area armed with a list of stuff that vegetarians eat: tofu, black beans, vegetables…I think that was the pretty much the depth of our study. We just wandered in, grabbed a cart (which meant delivery was definitely happening) and strolled the aisles filling our basket. When we got home we had to figure out what we could make with all this new food.
At first it was a lot of fun trolling the Interwebs looking for vegetarian recipes. Hell, even Ree Drummond has a veggie burger and she's married to the Marlboro Man.
N.B. – I still have not found or created a veggie burger that's not just mush nestled in a bun waiting to smoosh out as soon as you take the first bite.

Not even at the much-lauded Superiority Burger in the East Village. We schlepped from Herald Square on foot in the snow with high expectations! And after crowding into their teeny tiny little take-out joint? All four of us left hungry. The burger? Meh. What's that about?

If Burger is in the name of your restaurant, the damn thing should taste better. And be less mushy.
I borrowed about two dozen cookbooks from the New York Public Library. Some with very catchy names (Thug Kitchen: The Official Cookbook: Eat Like You Give a F*ck) while others wander into the clichéd 1970s granola scene (I won't name names here). Overall I read through them, learned about pulling satisfying flavors out of non-meat products and created a decent foundation for wandering the produce aisle without a list.
But some things I just don't get. I don't see why anyone eats tempeh a second time. I mean — what is that!?!? I know there's a special cooking method but it's basically just fermented tofu rubber. And Vegenaise? Just eat a damn egg! Or skip the slimy stuff altogether.
Along the way we've tried a handful of vegetarian lasagna recipes and eaten far too much lasagna this year. I tweaked, twisted and tamed them into what you have here. And, compared to our favorite meat version (which takes the better part of a day) this comes together pretty quickly.
This lasagna is so good, I'm planning to pull it out for our "non-Thanksgiving Thanksgiving" in Texas next month. Yes, Texans will be eating vegetarian lasagna.
Read on intrepid friends. Read on.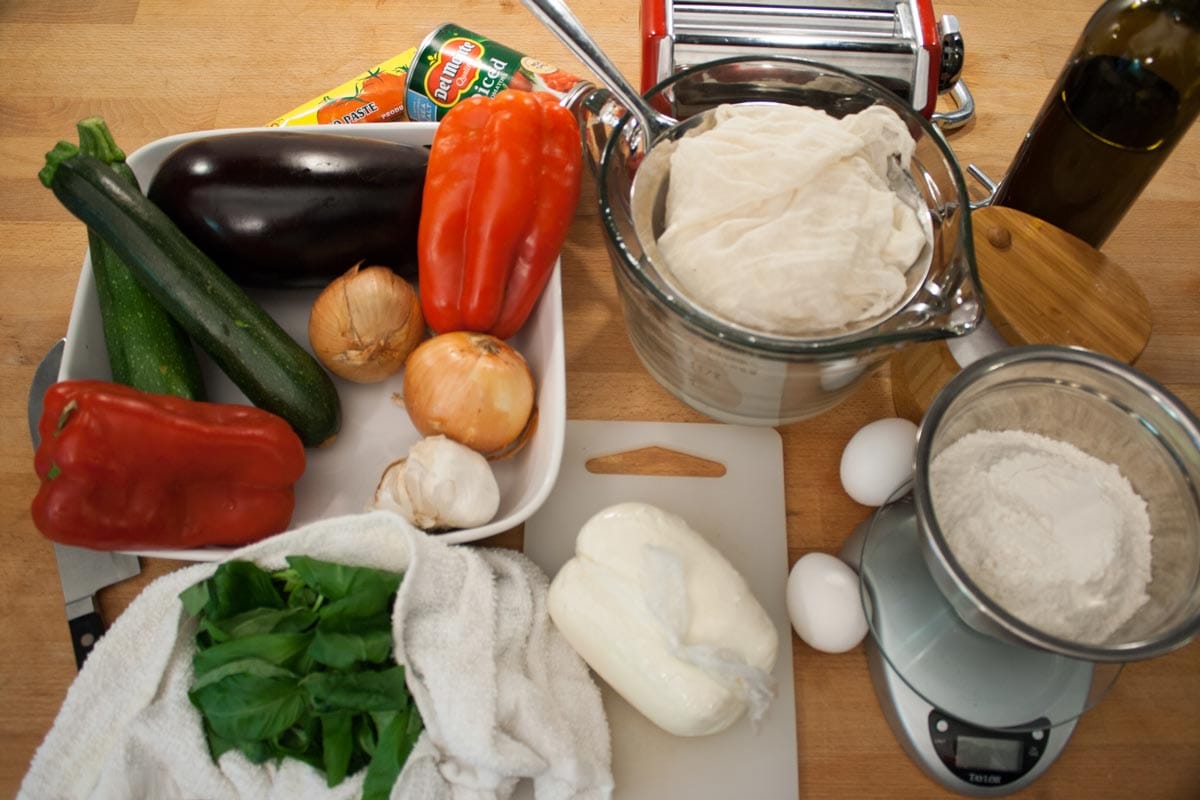 Ingredients
2 medium yellow onions
2 garlic cloves
2 medium zucchini
1 medium-large eggplant
2 not-green bell peppers (red, orange or yellow will help with color here)
1 15 oz. can diced tomatoes
1-2 tablespoons tomato paste
1 ounce fresh basil (plus a few leaves for garnish – set the prettiest leaves aside)
2 teaspoons fresh thyme.
1 recipe ricotta (or 15 oz whole milk ricotta)
1 recipe mozzarella (or 8-12 ounces fresh whole milk mozzarella)
4-5 oz. chunk parmigiano reggiano (don't buy the pre-grated stuff – it's coated with cellulose and just plain gross)
1 large egg
kosher salt and freshly ground pepper
1 recipe pasta (substituting olive oil for the 2 egg yolks)
Hardware
9 x 13 (or equivalent) deep casserole pan
A pasta machine makes quick work of flat noodles
Preparation
Slice mozzarella into fairly thin slices and set in refrigerator. You want about 30 (or more) slices.
Grate Parmigiano-Reggiano cheese.
Combine ricotta, 1 egg and ~1 ounce grated Parmigiano-Reggiano in a medium bowl. Mix thoroughly and set in refrigerator.
Make lasagna noodles, cover with plastic wrap and a damp towel and set aside. (directions below)


Lasagna noodles don't need to be pre-cooked for this recipe. Even if you're using the cardboard sheets from the cardboard box. The juices from the veggies are sufficient.

Wash and trim ends from zucchini. Quarter-turn the zucchini to make oblique pieces. Set aside.
Slice the onions into half-rounds. Set aside.
Smash the garlic with the side of a large knife. Chop and set aside.
Wash and trim ends from eggplant. Slice in half lengthwise then slice thinly into half-rounds. Set aside.
Wash and core bell peppers. Medium chop and set aside.
Rinse basil. Select 10-12 pretty basil leaves, wrap in a damp towel and set aside.
Remove large stems from remaining basil and coarsely rip basil leaves. Set aside.
Holding a sprig of thyme at its top, slide your fingers down it to the bottom stripping the leaves from the coarse stem. If the soft stems on top come with the leaves, finely chop them and add to leaves. Be sure to pick out any coarse stems. Set aside.
I chop and arrange the vegetables for the ratatouille ('cause that's what the sauce really is) on a single huge cutting board. Then I can transport them en-masse to the counter next to the stove.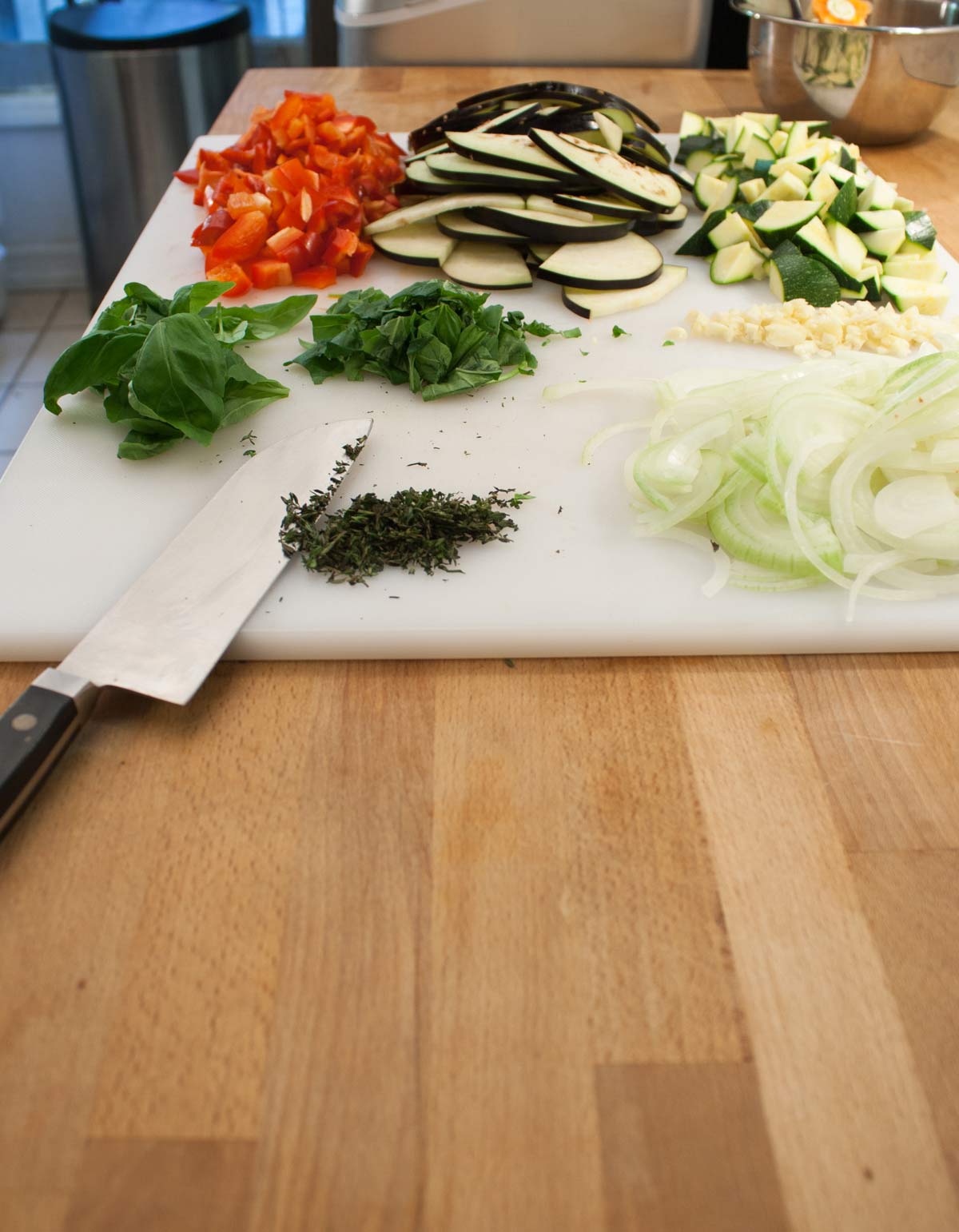 Make the sauce
The sauce comes together in a few minutes and can be done ahead of time.
Drizzle ~2 Tablespoons olive oil in a large pan, bring to medium heat and add onions.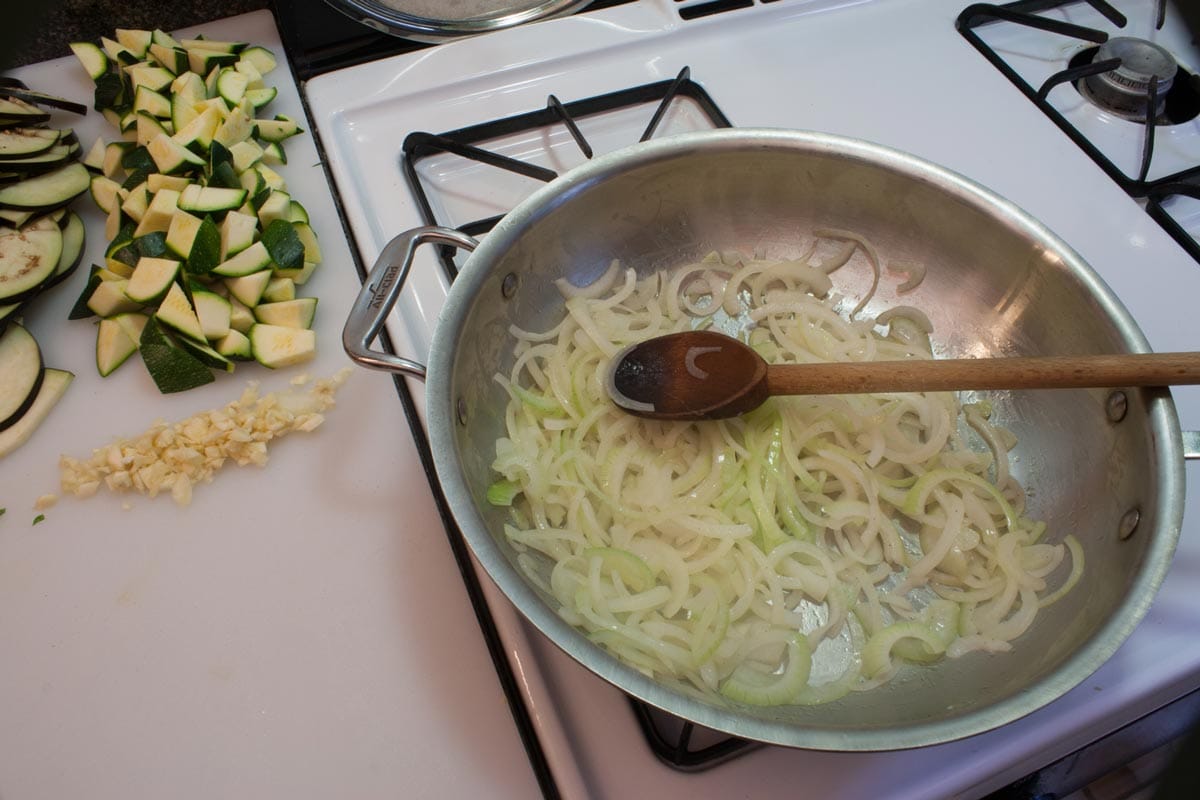 Cook onions until just translucent (not browning) and sprinkle on the chopped garlic with a small pinch of salt.
Cook for about a minute until you can just smell the garlic.
Add about 2/3 of the chopped thyme, can of tomatoes, a good squeeze of tomato paste (about 2 Tablespoons) and a pinch of salt.
Stir everything together and let simmer about 10 minutes stirring once if you remember.
Stir in red peppers and simmer another 5 minutes.
Add the basil to the mix and arrange the eggplant slices on top to form an even layer of eggplant.
We're gonna' use the cooking veggies down below to steam and soften our eggplant. Otherwise it's like trying to stir floor tiles into the sauce. There will be tomatoes splattered everywhere!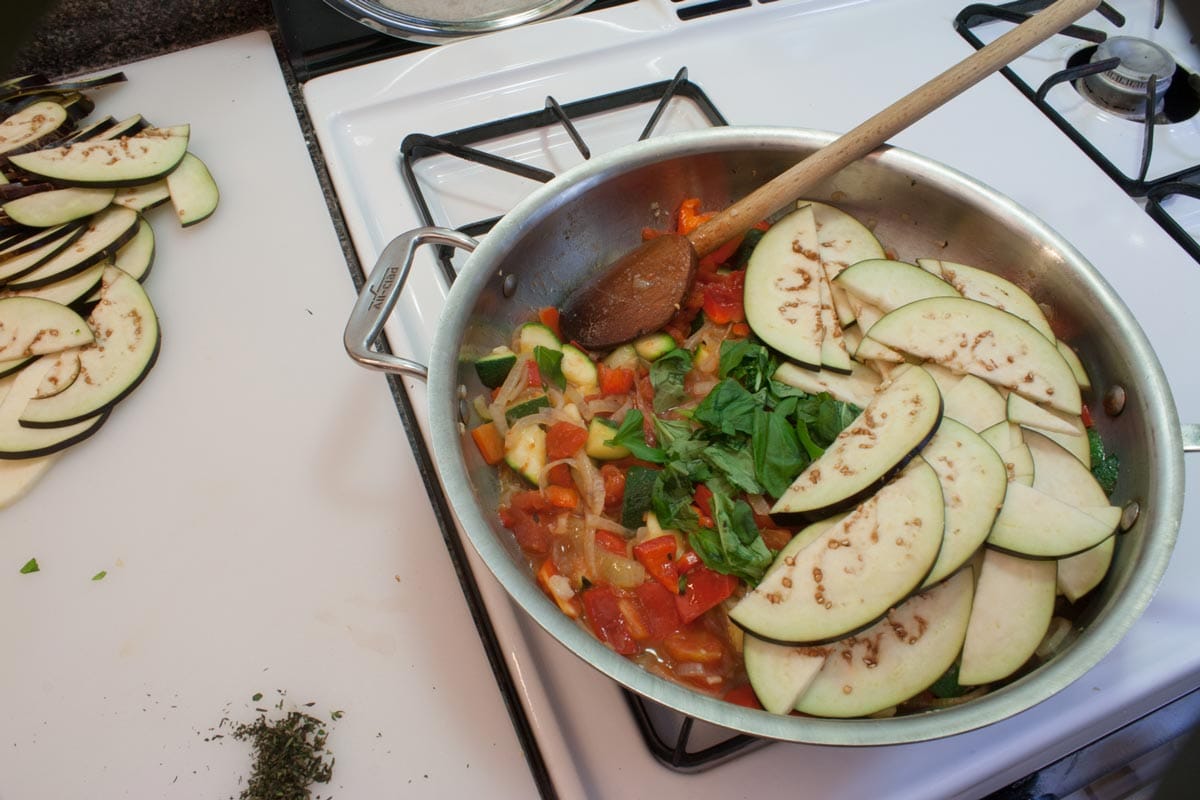 Cover and simmer about 15 minutes to soften the eggplant.
Once eggplant is soft stir it in to the mixture along with a biggish pinch of salt, cover and simmer for 35-40 minutes, stirring occasionally. The sauce will still be very moist. That moisture will be sucked up by the lasagna noodles. Don't sweat it.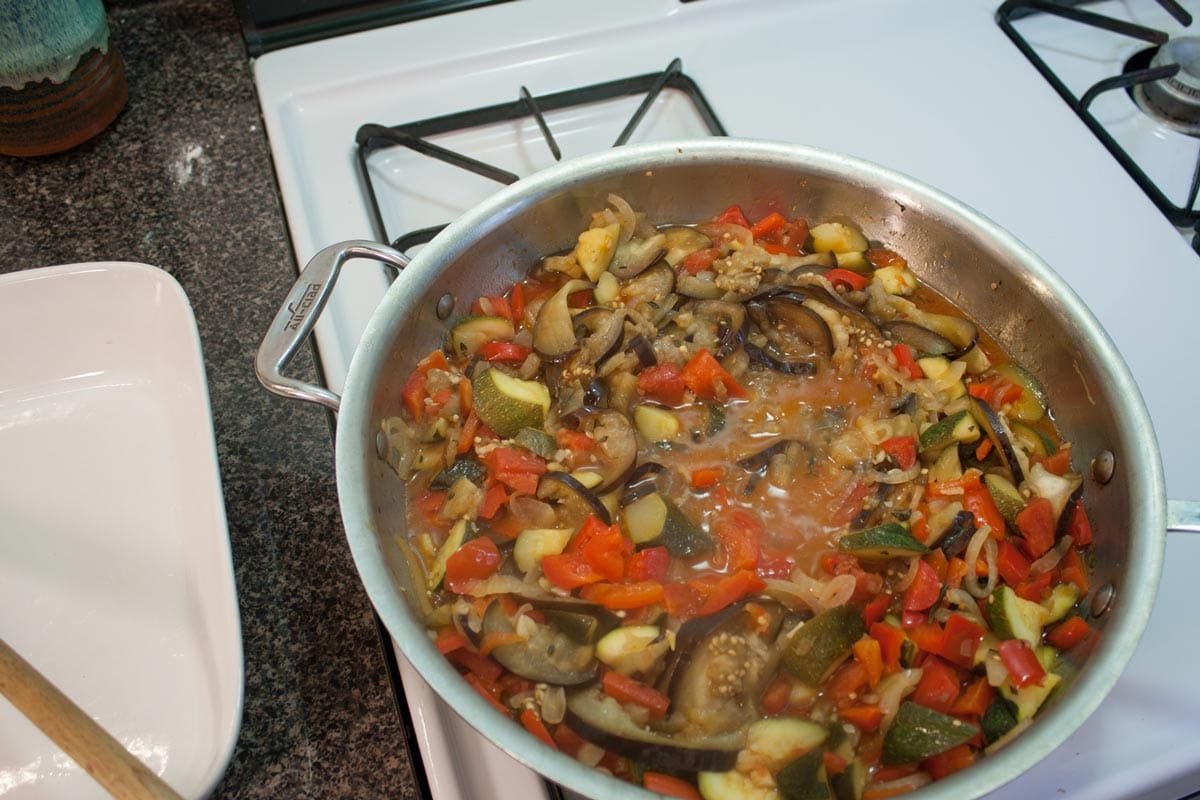 Shaping lasagna noodles
Make pasta – substituting olive oil for the 2 egg yolks in the recipe.
Clamp your pasta machine to the counter, set it to the widest setting, and divide the dough into 4 fairly even chunks.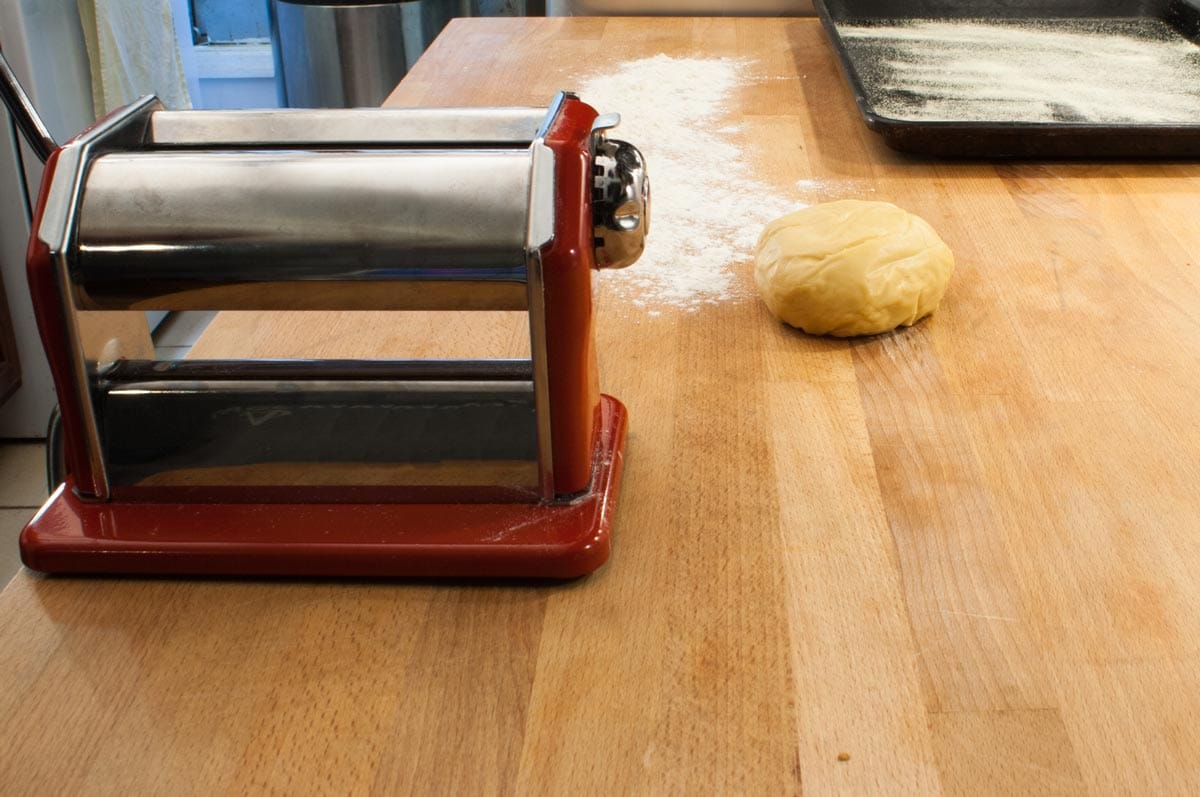 Working with one piece of dough at a time (keep the others covered with plastic wrap) roll into a tube about 6 inches long.
Pinch one end of the tube and crank the pasta through the machine.
Fold the ends together and feed back through the machine – starting with the ends that you folded together.
Now fold the pasta in half again and feed it through sideways. You should have pretty much a square at this point.
Fold the pasta in half on the longest side and feed through the machine again.
Adjust your pasta machine to the next smaller setting and feed pasta through. Continue until you feed it through at the thinnest setting.
If you begin to get a 'fat' end try feeding that through first. The pressure will sometimes even things out. If the pasta gets sticky smooth a little flour on the surface. But very little. Just enough to keep it from sticking. Lay flat on the counter, trim off and discard any narrow ends. You want fairly uniform width lasagna sheets.
Now eyeball your lasagna pan (or set it on the counter next to your big long lasagna noodle) and, using a bench scraper or sharp knife, cut a length of pasta that will fit neatly in your pan.
Using that piece as a guide cut the rest of your noodles.
Arrange lasagna noodles on a baking sheet with some space between them. Sprinkle with semolina to keep them from sticking together. (If you don't have semolina use a little flour.)
Continue until all the pasta dough is formed into lasagna noodles.
Cover loosely with plastic wrap and a kitchen towel and set aside somewhere cool.
I have no idea how long you can keep the rolled sheets before baking. I've left them for a couple hours without any harm.
Assembly
Bring everything to one place and get ready to layer!
Position a rack in the center of oven and preheat to 350ºF.
Scoop about 1 cup of ratatouille into the bottom of your baking dish.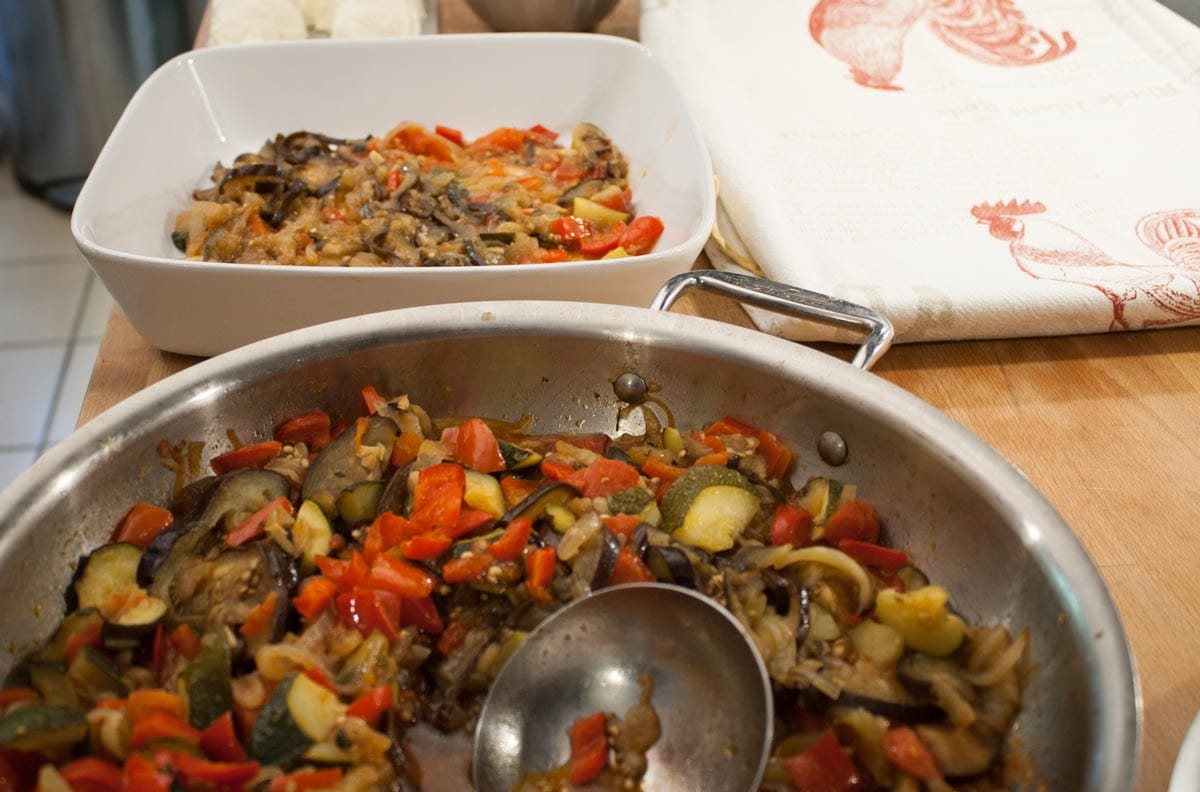 Cover with a single layer of lasagna noodles overlapping the edges ever so slightly.
Scoop another 1/2 cup of ratatouille over the noodles and spread with the back of your ladle taking care not to separate your noodles.
Dot about 8 Tablespoons of ricotta mixture over ratatouille and use the back of a spoon to smear it around.
Arrange a layer of mozzarella slices (about 1/3 of your slices) over the smeared ricotta.
Sprinkle about 1/3 of the grated Parmigiano-Reggiano over the mozzarella.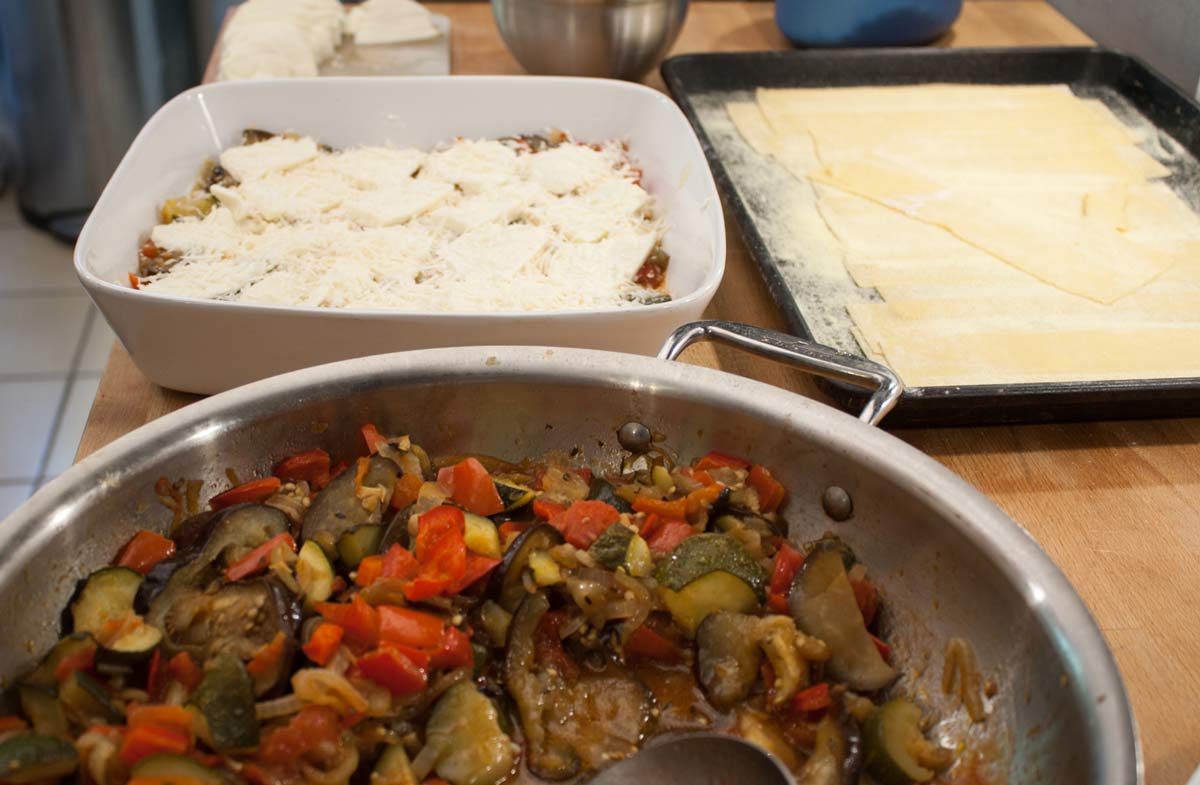 Continue layering (starting with noodles at this point) to create 3 layers. You'll probably have a couple of lasagna noodles left over.
Arrange a few leaves of basil on top, sprinkle with the remaining thyme then drizzle a tablespoon or so of olive oil over the top.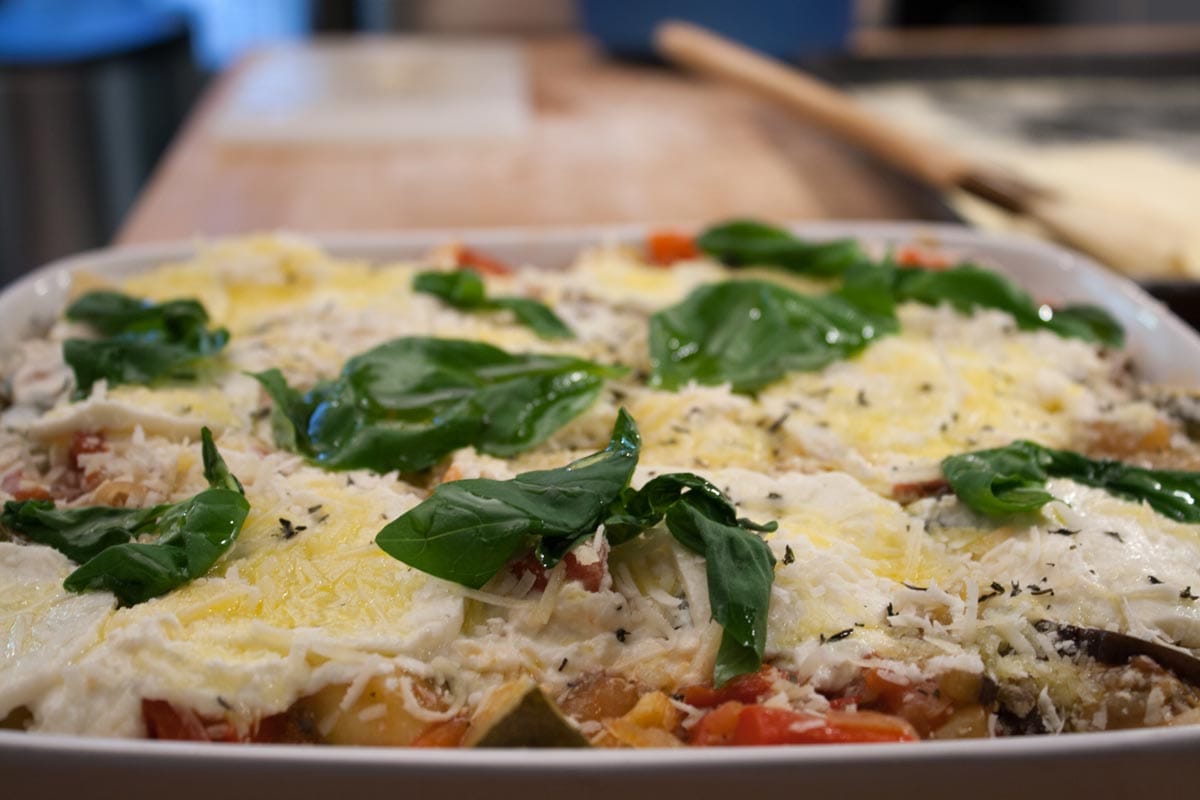 Place lasagna dish in the middle of a sturdy baking sheet lined with aluminum foil.
Slide into oven and bake 40-50 minutes.
Remove from oven and let rest for about 10 minutes to cool and come together.