Lasagna is one of our favorite dinners. It's not light so we don't have it too often. We (like hundreds of thousands of other people) find that is is best on the second day. But rather than try to warm it up, we've found a way to get the same melding of flavors without cooking it twice. We let the assembled casserole (because Lasagna is a casserole) sit in the refrigerator overnight.
Oh, and we sort of start from scratch with almost everything. We'll show you how to do most of it here.
Ingredients
1 pound ground beef
1 pound ground pork
1 hot Italian sausage link (casing removed)
1 anchovy in oil
1 medium carrot
1 medium yellow onion
1-2 stalks celery
1 garlic clove
1 large sprig of basil
1 cup whole milk
A 3-4" section of Parmigiano-Reggiano rind
4 ounces Parmigiano-Reggiano cheese (Not the stuff in the green jar – get the good cheese from the deli)
3 cups chicken stock
1 29-ounce can crushed tomatoes (you just can't get fresh tomatoes this nice)
1-2 Tablespoons tomato paste
1 cup white wine
Kosher salt (don't use the stuff with the girl and her umbrella on the can)
Other Ingredients
1 recipe of fresh mozzarella cheese (or about 12 ounces if you're not making your own)
1 recipe of fresh ricotta cheese (about 16 ounces if you're not making your own)
8 ounces Parmigiano-Reggiano cheese (rind removed)
1 large egg
1 recipe of lasagna noodles (or about 3/4 pound dry lasagna noodles if not making your own)
Hardware
13″ x 9″ baking pan (we use a heavy Corning pan because it keeps the stuff on the bottom from sticking)
Dutch oven – the heavier the better
Pasta pot (if you're not making fresh pasta)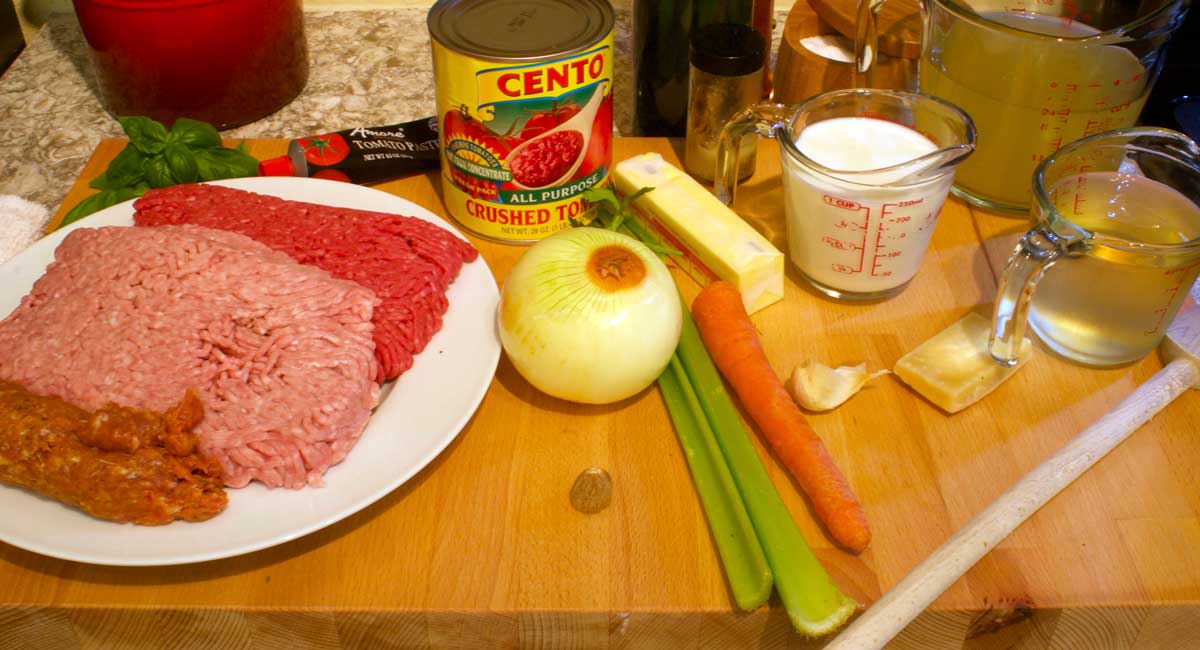 Directions for Bolognese Sauce
Wash and chop carrot into about 1″ chunks.
Chop celery into 2-3″ chunks
Peel onion and cut into 6-8 wedges
Peel and smash garlic clove
Place carrot in food processor bowl and pulse a few times to break it into small-ish pieces
Add celery, onion and garlic and process until everything is a fine dice.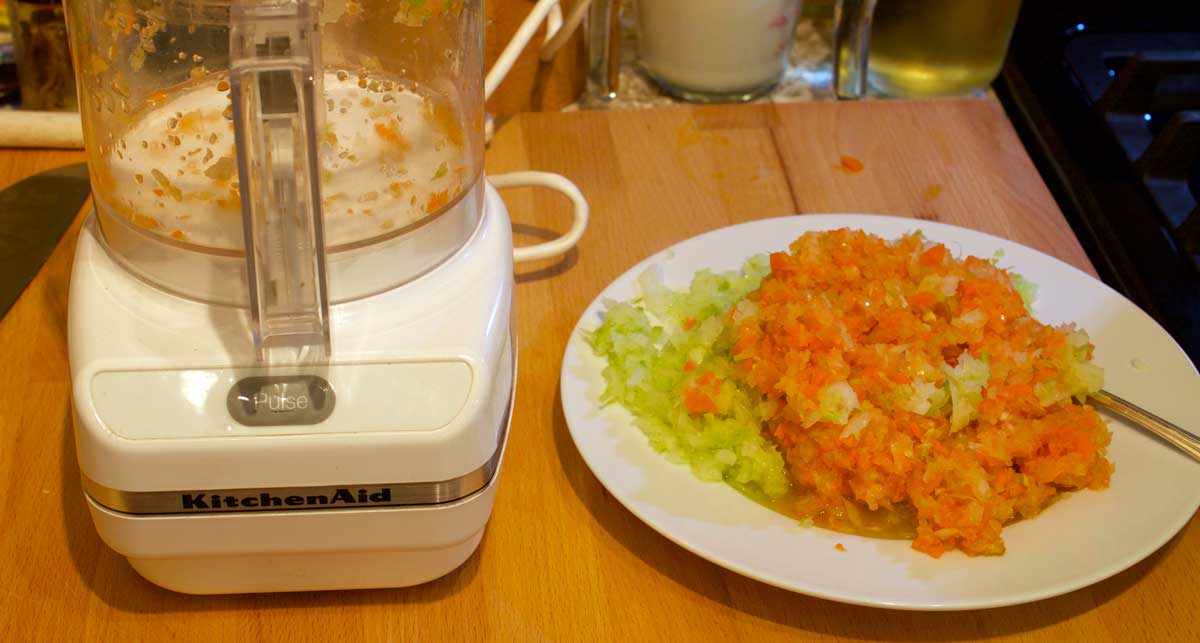 Add 2-3 Tablespoons olive oil to heavy Dutch oven. Turn to medium heat.
Add beef, pork, sausage, anchovy, and vegetable mixture to pot.
Cook, stirring occasionally, until almost dry.
This will take some time –  probably half an hour or more. Don't rush it. You want to let the meat get brown and form little crusty bits on the bottom of the Dutch oven.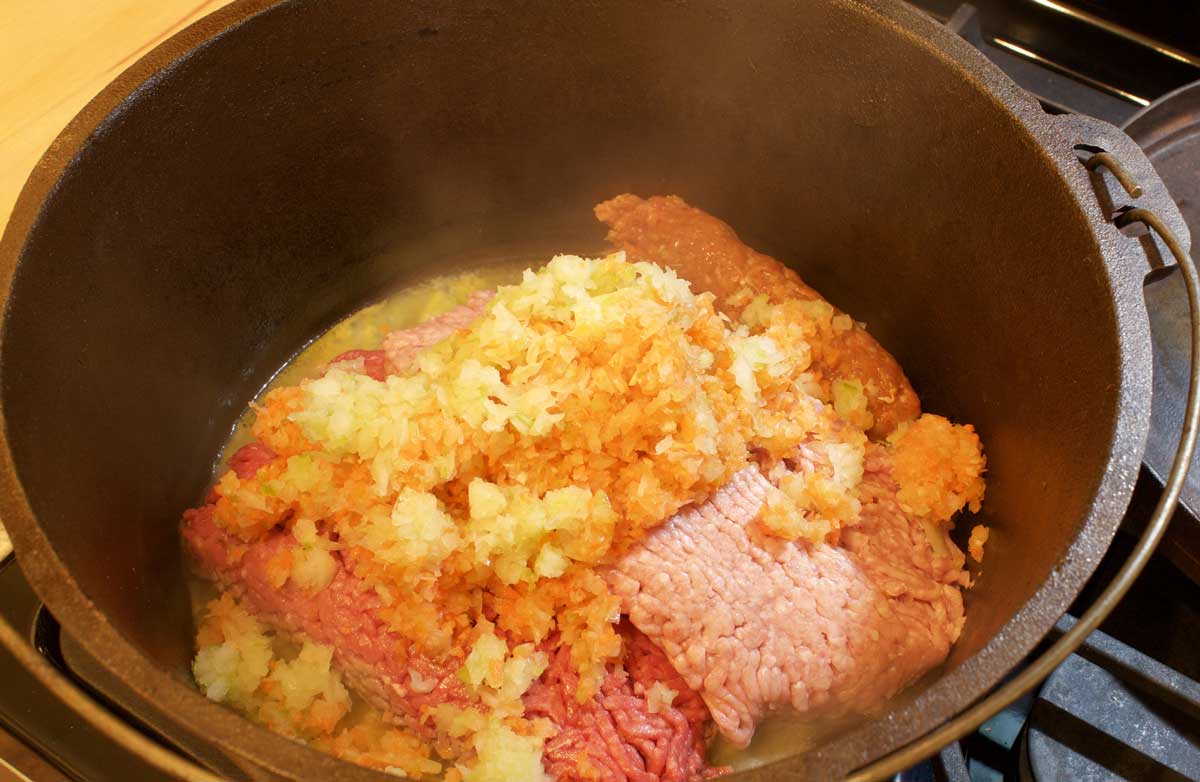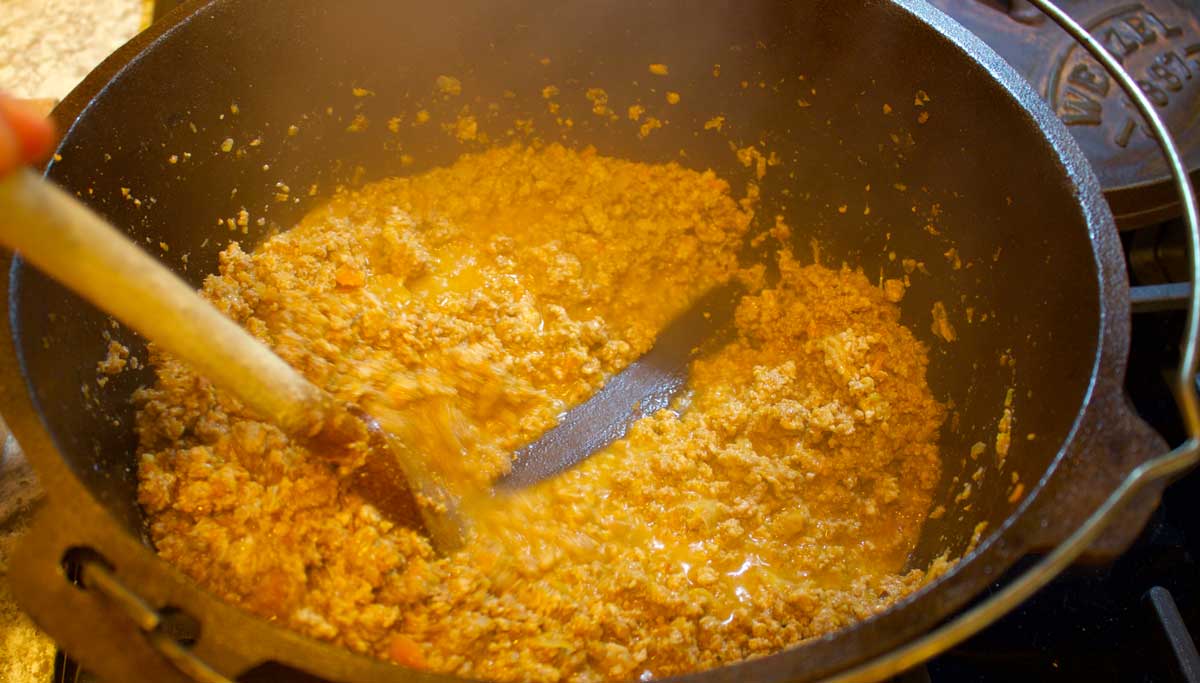 Add 1-2 Tablespoons of tomato paste, stir fairly vigorously to incorporate and cook until the paste is fragrant. (You'll know.)
 Add white wine to Dutch oven and stir, scraping up all those tasty bits from the bottom of the Dutch oven.
This will take a minute or two. You'll know you're done when the wooden spoon only has a few bits it hangs on and the pungent smell of white wine is gone.
Add whole milk. Let simmer about 2 minutes until  (again) the pan is almost dry.
You should see a pattern developing by now. Every time you add a flavor component (ingredient) you want to go as close to dry as you can. This develops layers of flavor by caramelizing over and over.
Pour in your can of chopped tomatoes and about 2 cups of chicken stock.
Add large sprig of basil and Parmigiana-Reggiano rind.
Stir to mix everything together, cover and simmer for 2-3 hours.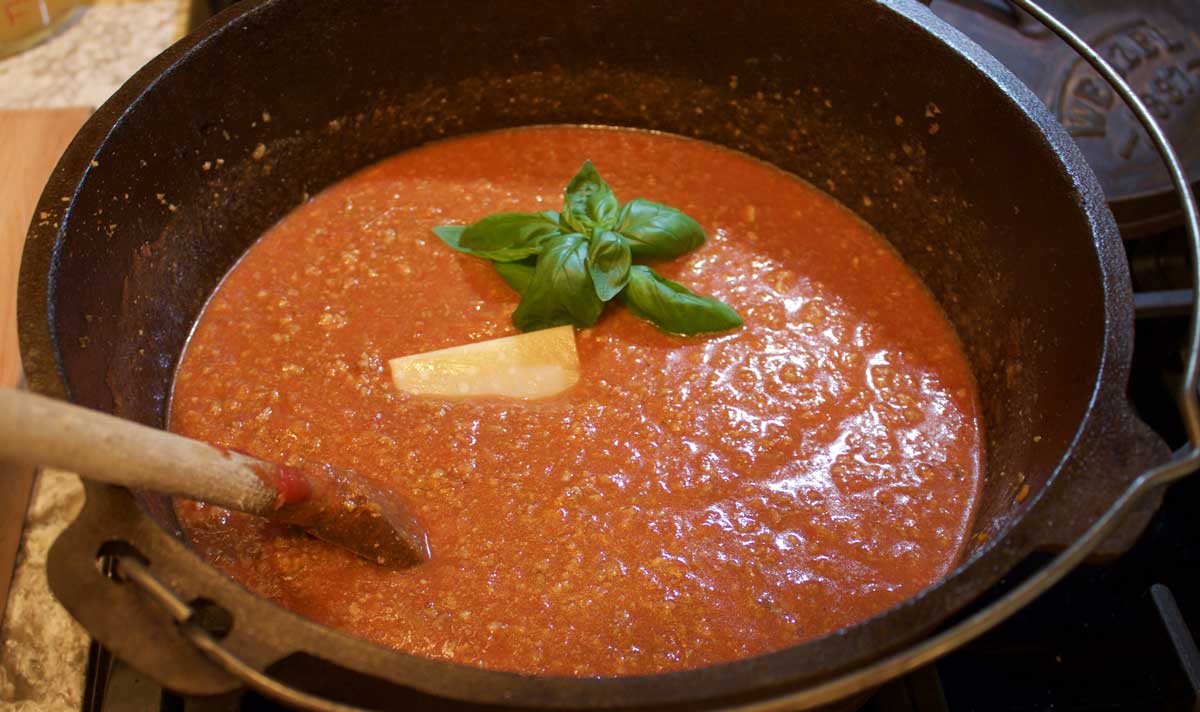 Check on your sauce every 20 minutes or so after the first hour of cooking. If it begins to look too dry add a half cup of chicken stock. But, again, remember we're going for depth of flavor. The longer it cooks the richer this gets.
When the sauce is thick and concentrated turn the heat off, let if cool for about half an hour and, if not using today, transfer to a non-reactive container and refrigerate.
If you have the time this is much improved if it's refrigerated overnight before you continue with the recipe.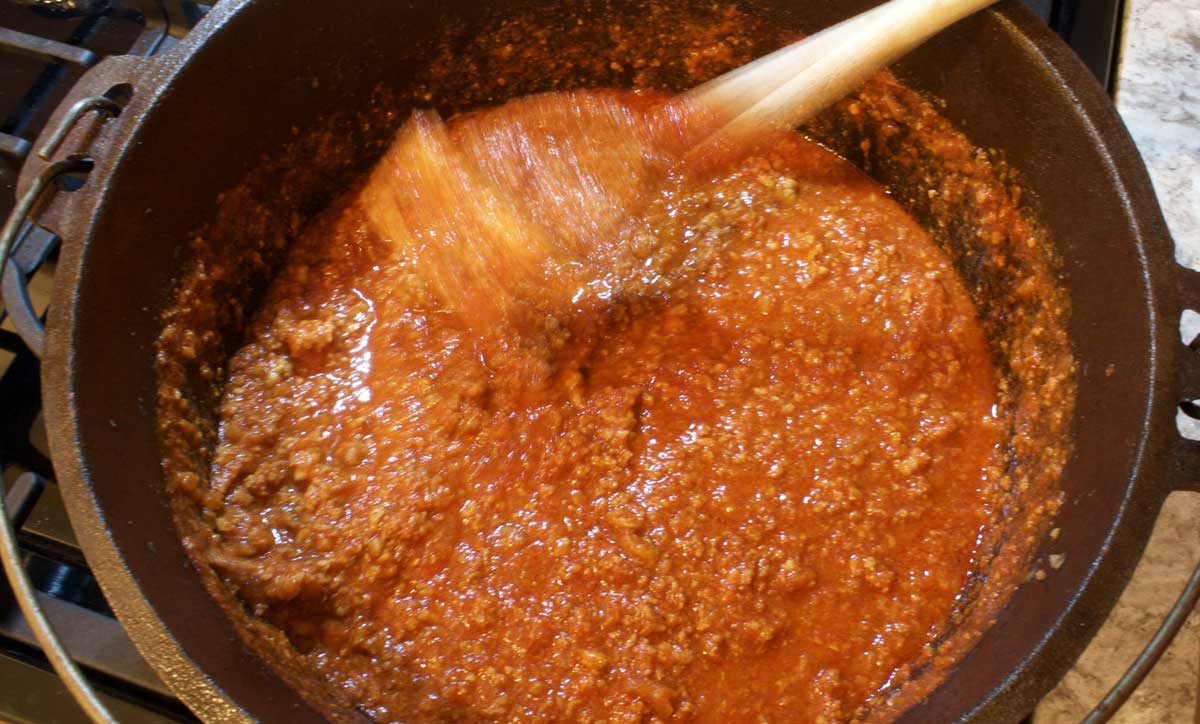 Assembling the Lasagna
If not using fresh lasagna noodles, boil your dry noodles for about 5 minutes. Drain, rinse and arrange on plastic wrap so they don't stick together and form one HUGE noodle.
Thinly slice the fresh mozzarella into 12-14 slices. Divide each slice in half down the middle. Set aside.
Grate the 8 ounces of Parmigiano-Reggiano cheese on the fine side of a box grater (or pulse in a food processor)
Place fresh ricotta and 1 large egg into a small mixing bowl. Stir to combine.
Ladle about 1/2 cup of Bolognese sauce in the bottom of a large baking dish (13×19 should work) and spread to cover bottom of pan.
Cover the bolognese with a layer of lasagna noodles.
Spoon about 1/3 of the ricotta mixture (3-4 large tablespoons) over the noodles. Smear it a bit to spread it out.
Sprinkle with a small handful grated Parmigiano-Reggiano.
Arrange 6-8 slices mozzarella on top.
Ladle about 1 cup Bolognese on top and use the back of the ladle to spread it out.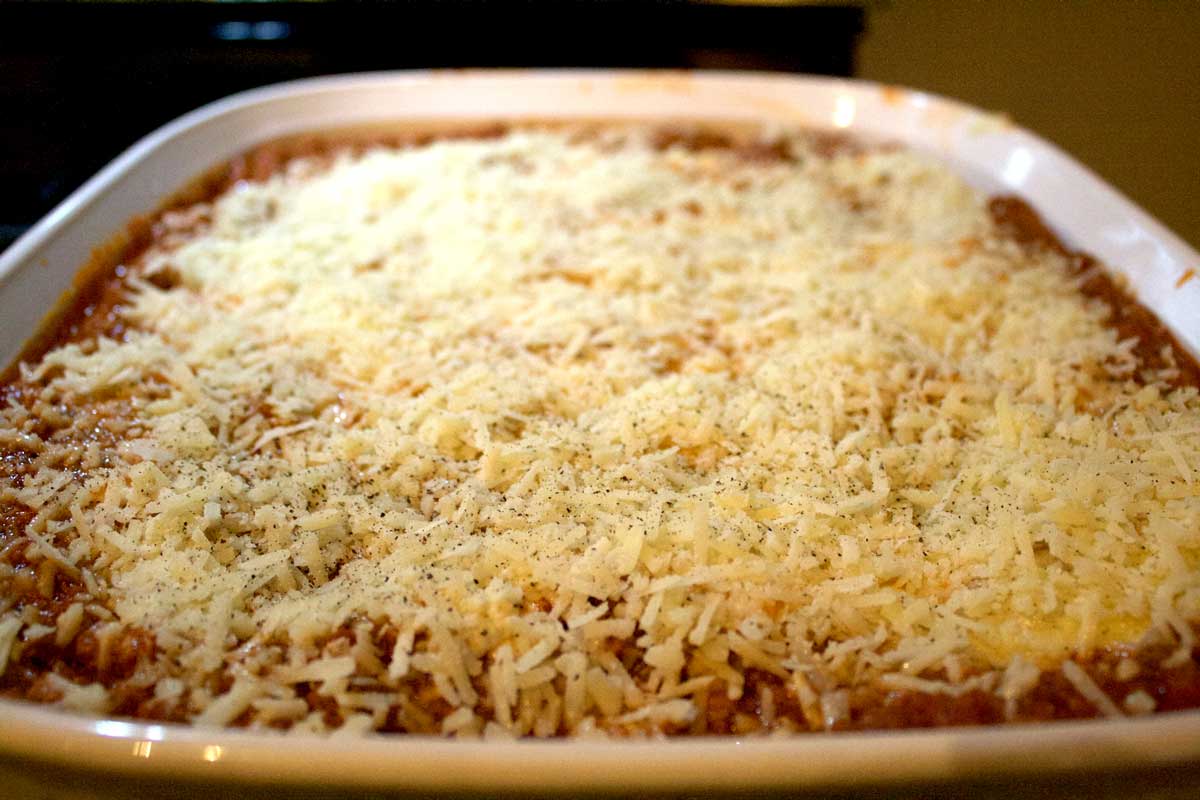 At this point you can cover the lasagna pan with plastic wrap and refrigerate. A night in the fridge will allow the sauce, cheeses and pasta to marry together.
Repeat with noodles, ricotta, parmesan and mozzarella until dish is filled – probably 2 more layers.
If you refrigerated overnight, remove the lasagna from the fridge and let come to room temperature (about 2 hours).
Sprinkle the top with grated parmesan and a little freshly ground pepper.
Place in preheated oven and cook 45-50 minutes.
Remove from oven and let cool for 10-15 minutes before serving.
Slice into greedy squares and serve with fresh crusty bread.