We were recently in Texas for our annual "Friendsgiving", and a new friend brought these little Canning Jar Pecan Pies to our feast. Pecan pies are always delicious, and the little jars are such a cute presentation. They were a huge hit, and several people took theirs home to show them off.
When José began planning his annual Volunteer Holiday Parties, he thought they would be great for the events. The original recipe used 8-ounce canning jars which is a LOT of pecan pie. So we decided to tweak the recipe a bit and try making them in 4-ounce jars.
They turned out to be the perfect size for a dessert. And if you wanted, there's even room on top for a dollop of whip cream.
Also, because measuring corn syrup is tedious, I converted the measures to weights. We weigh the syrup and sugar directly into the saucepan which is much faster when doing batch after batch. And saves a lot of cleanup, because I somehow get corn syrup all over the kitchen when measuring in a cup.
Here's how we made them. And there's a hint at the bottom for prepping a few days ahead.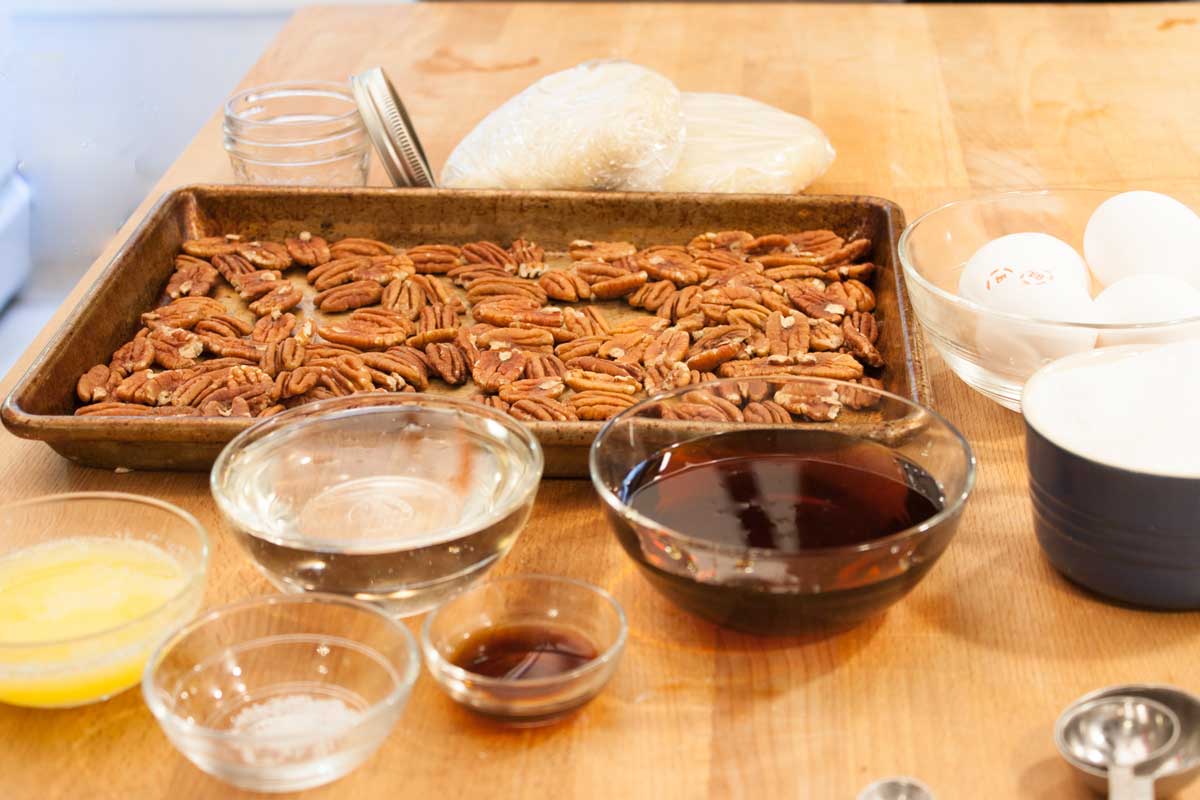 Ingredients
Pie Crusts
1 half of a recipe Jose's Best Pie Crust Recipe

Make the whole recipe and freeze the other half for another use

½ stick butter, melted, for brushing jelly jars
Pie Filling
2 cups coarsely chopped pecan halves
200 grams (~1 cup) granulated sugar
250 grams (¾ cup) light corn syrup
250 grams (¾ cup) dark corn syrup
4 large eggs
4 Tablespoons butter
6 grams (1½ teaspoons) vanilla
Pinch salt
Hardware
Prep Your Jars
Preheat oven to 350ºF.
Spread pecan pieces in a single layer on a baking sheet.
Toast pecans in oven for about 5 minutes. Set aside to cool.
Melt ½ stick butter in a small saucepan.
Using a pastry brush, lightly coat the inside of each jar with butter. Set aside.
Roll out ½ of pie crust recipe to about a 12-inch round.
Using a 3-inch cookie cutter, cut rounds.
Drop one round in each jelly jar and press into bottom and up the sides. It should come about half an inch up the side of each jar.
Divide cooled pecan pieces into jelly jars (about 1½ Tablespoons each). Set aside.
Be careful not to poke holes in the bottom of the crust. And try to get all the air out from under the crust.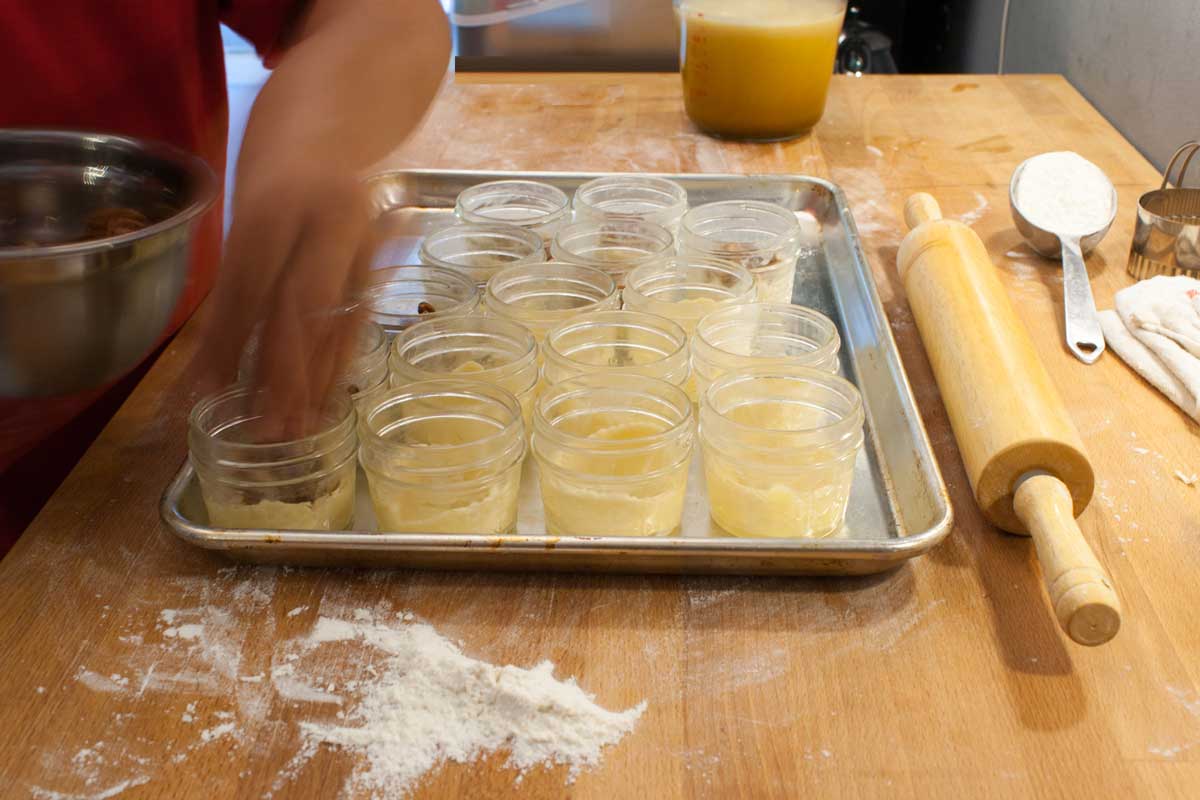 If you're baking later, this is the point where you screw the lids on and store them in the fridge. (About 3 days max.)
Make Pie Filling
Melt butter in small saucepan (or microwave) and set aside to cool.
Combine granulated sugar and corn syrups in a medium heavy-bottomed saucepan.
Bring to a boil over medium heat and boil for ~2 minutes. Set aside to cool.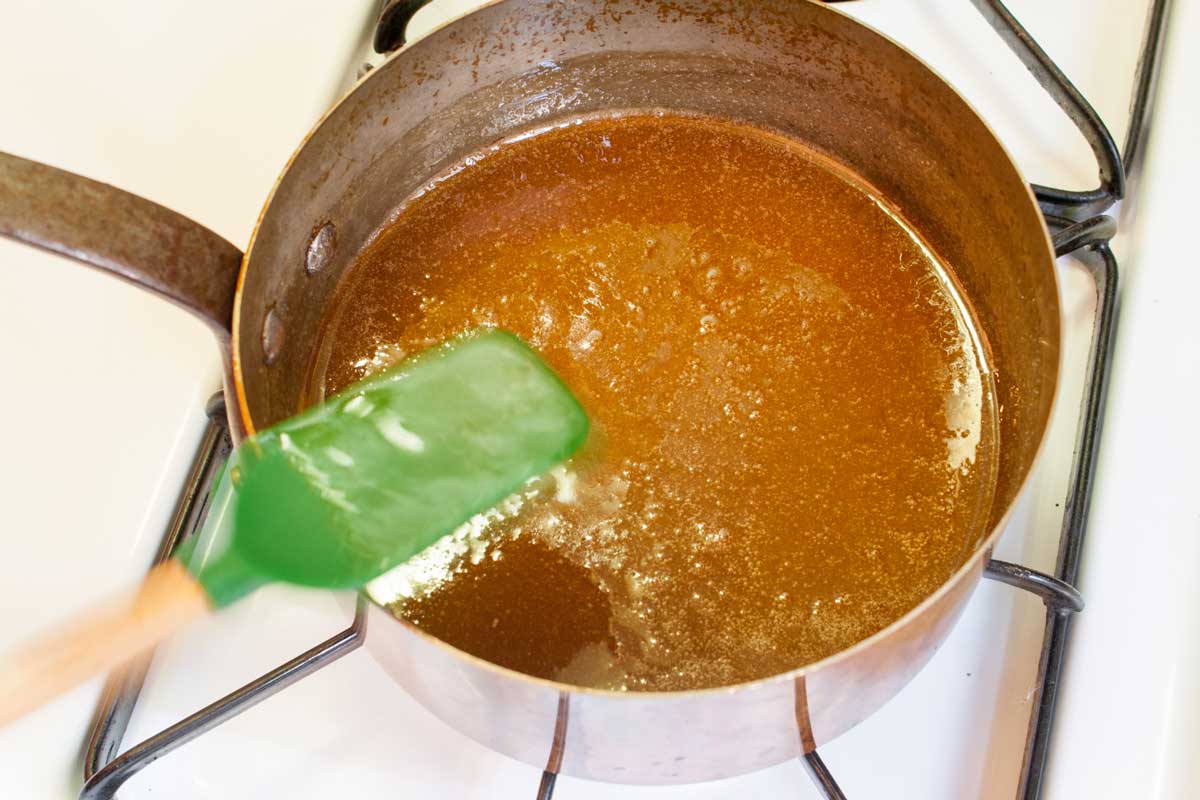 In a mixer bowl fitted with a paddle attachment beat eggs at medium speed for about 30 seconds – until slightly frothy.
This can be done with a whisk and a large bowl but you might need a hand to steady your bowl when pouring in the sugar/syrup mixture.
With the mixer on low, very slowly begin pouring sugar/syrup mixture into the lightly beaten eggs.
Begin with a very slow trickle to prevent curdling (scrambling) your eggs. Slowly increase your pour rate as the eggs warm. If you smell eggs while you're doing this, your eggs are curdled and you'll need to start over. (the voice of experience here…)
Add butter, vanilla and salt.
Scrape bowl with a spatula and continue mixing for about a minute on low speed to ensure everything is well mixed.
Transfer pie filling to a large measuring cup or container with a spout. This will make it easier to pour into the jelly jars.
Pour pie filling into each prepared jar to about the thick line where the lid screws down. Leave that area where the threads are for expansion during cooking.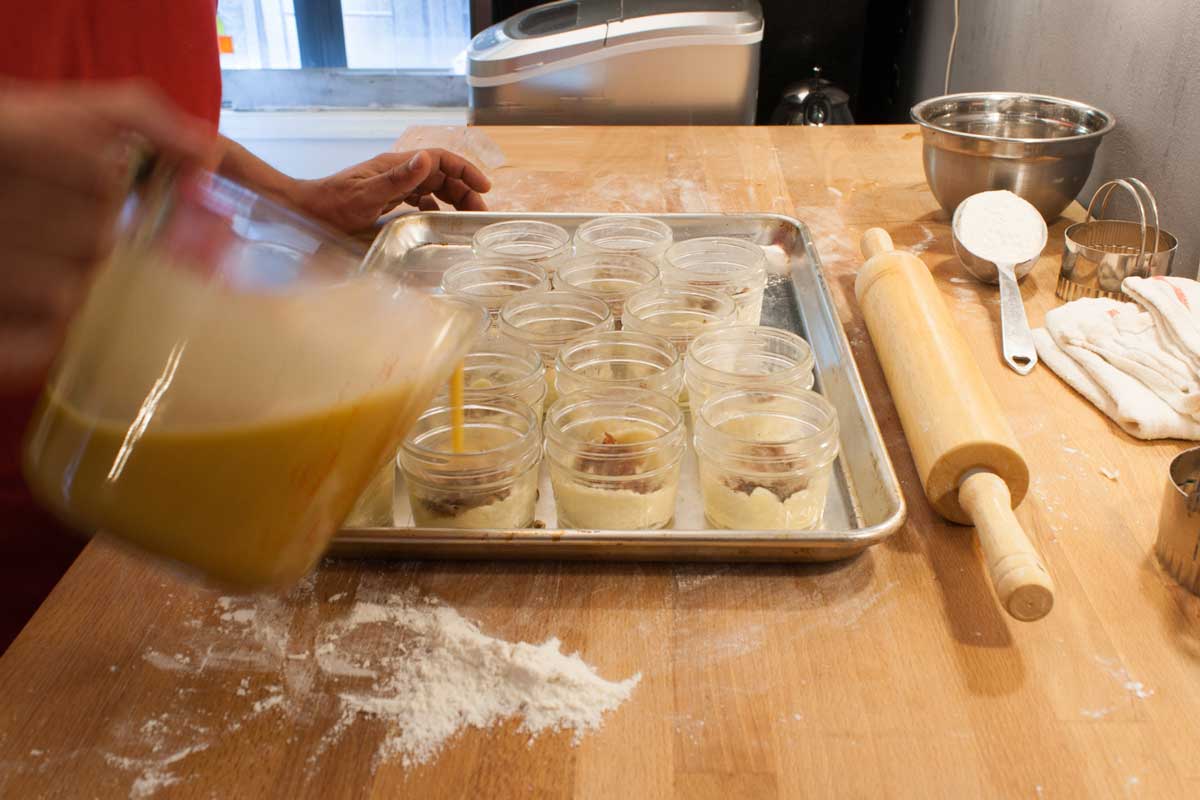 Arrange jelly jars on a silpat- or foil-covered sturdy baking sheet and bake for about 20 minutes.
We put a pecan half on the top of each – just for show.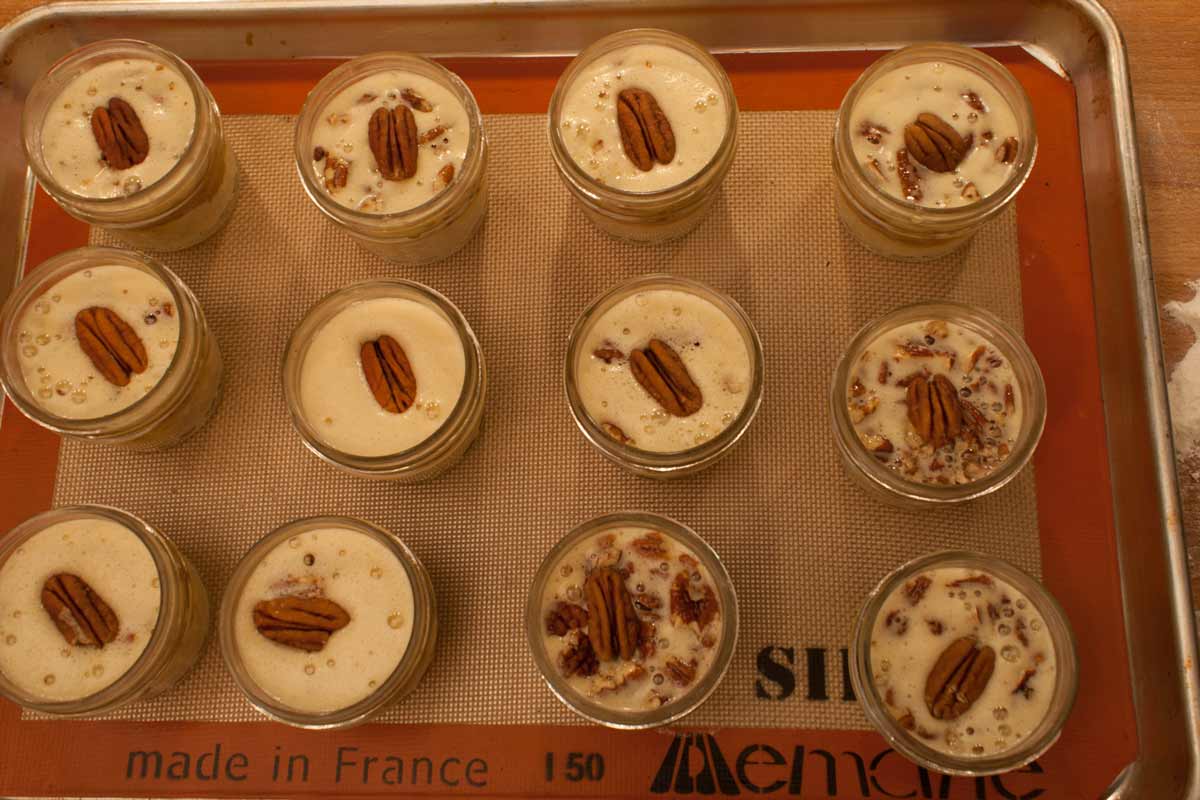 At the 20 minute point, check the pies and cover with a sheet of aluminum foil if they are getting too brown.
Continue cooking about 10 minutes (30 minutes total). Don't overbake.
Remove from oven. Discard aluminum foil if used.
Let cool to room temperature. 3-4 hours normally.
For our purposes, we doubled the recipe. When cooking 2 dozen jar pies, total cooking time increased to about 37 minutes.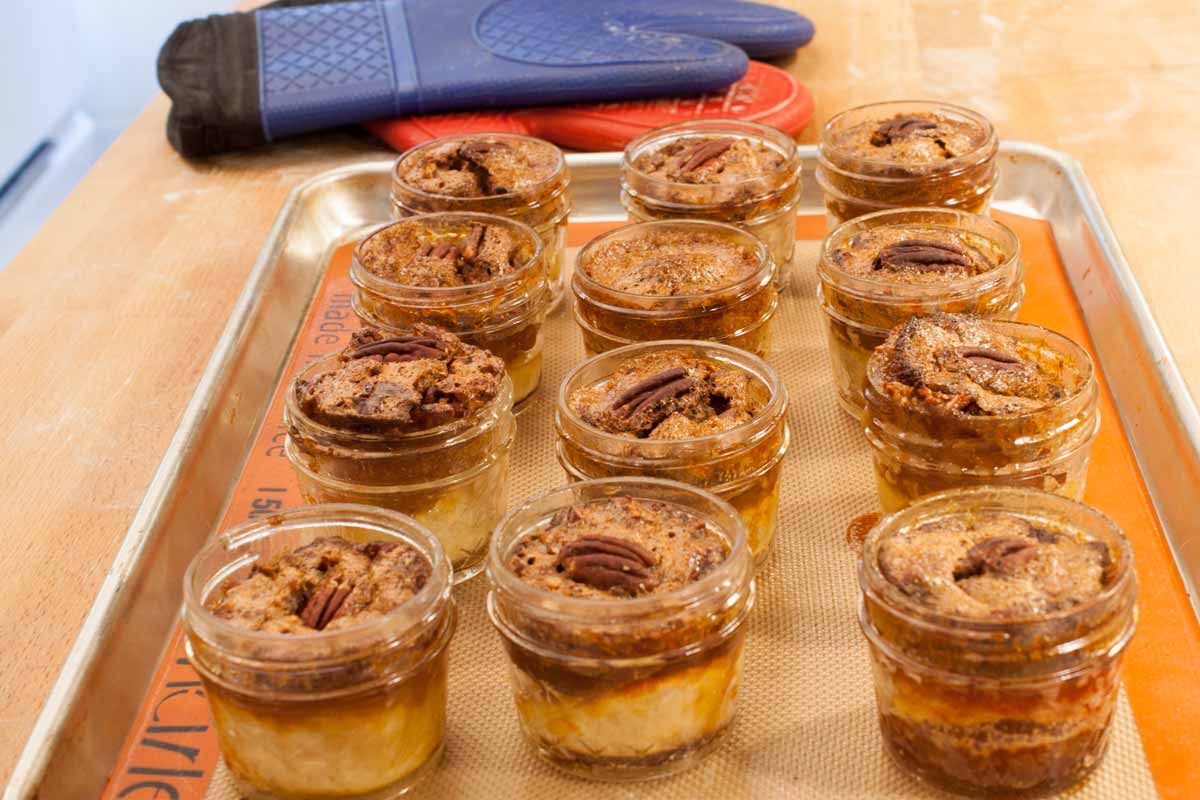 These are best served the day they are made. But they can be prepped a few days ahead.
Make-ahead tips
We have a trick that lets us zip through these pretty quickly on serving day.
We prep the jars up through the point where pecans are in the jars. Screw the lids on tightly and store in the refrigerator for up to 3 days. When we're ready to cook, we pull the jars out of the fridge about two hours before we plan to pop them in the oven.
They're canning jars and could (probably) take the temperature transition without a problem. But, I don't want to tempt the baked-on-sugar Moerae. Basically, we're chickens.
The pies can be baked the day before if your oven will be fully engaged on serving day. After baking and completely cooling, screw the lids on the jars and store in the fridge. Remove from fridge and remove the lids (to prevent condensation) about 2 hours before serving to allow them to come to room temperature.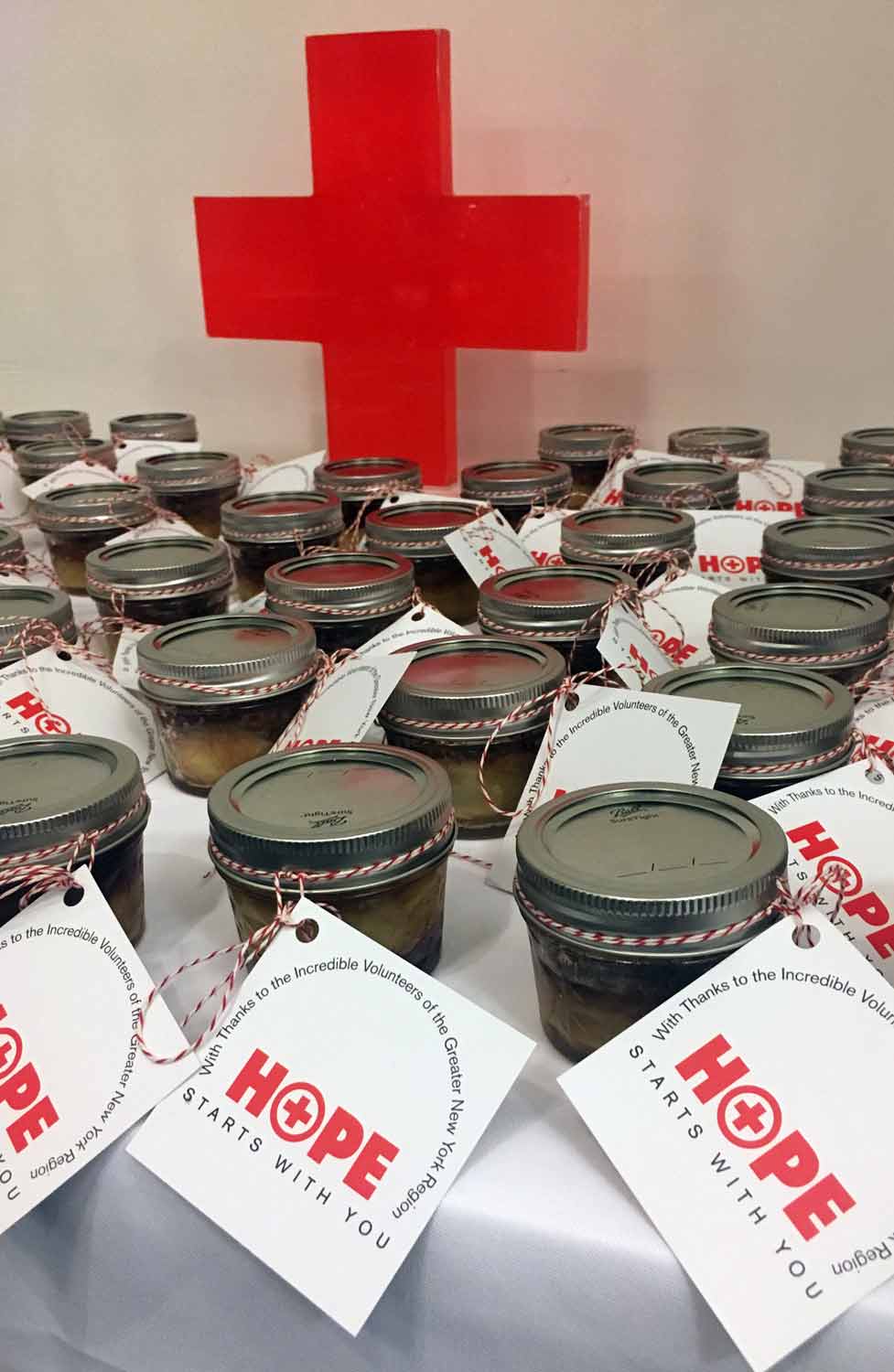 José works with volunteers at the Greater New York Region of the American Red Cross.
A couple of times each year the Red Cross recognizes and thanks their dedicated volunteers; without whom the Red Cross' incredibly powerful mission "to prevent and alleviate human suffering wherever it may be found" could not be accomplished.
The jars in the last photo are just a few of the almost 300 we prepared for this year's Volunteer Holiday Parties.
Nutrition Facts
Servings: 12
Amount per serving
Calories
328
% Daily Value*
Total Fat 11.2g
14%
Saturated Fat 4.5g
23%
Cholesterol 77mg
26%
Sodium 259mg
11%
Total Carbohydrate 55.8g
20%
Dietary Fiber 0.8g
3%
Total Sugars 27.3g
Protein 3.8g
Vitamin D 10mcg
49%
Calcium 16mg
1%
Iron 1mg
5%
Potassium 60mg
1%
*The % Daily Value (DV) tells you how much a nutrient in a food serving contributes to a daily diet. 2,000 calorie a day is used for general nutrition advice.